The Engaged Encounter Weekend offers couples a unique opportunity to look at their commitment to each other in a deeper way as they prepare for marriage. It gives them the opportunity to focus exclusively on each other in peaceful surroundings, free from the pressure and distractions of the outside world.

Though Catholic in origin, this experience is open to any engaged couple wanting to prepare for a deeper, more meaningful life together. The Weekend is an in-depth, private, personal, marriage preparation experience within the context of Catholic faith and values. Learn More.

Check out our facebook page for more info: https://www.facebook.com/PghCEE/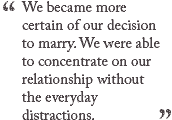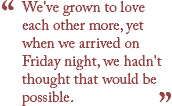 Our 2021 weekend dates are:
It will be presented entirely via Zoom, at a reduced cost of $50.00 per couple. The weekend will begin on Saturday at 8am and end on Sunday by 2pm.
Make Donations Online
Stay Connected after your weekend
Wondering why to attend for an Entire Weekend? The weekend experience offers each couple the insights, the tools and the confidence to enrich their relationship and strengthen their love for one another. They learn that good marriages don't just happen.

If our weekend dates don't work out for you, Greensburg will be presenting a physical weekend on:
Sep 17, 2021 - Sep 19, 2021
For more information, please check out their website: https://greensburg.engagedencounter.com/